Placentia Founders Society
The Placentia Founders Society (PFS) was established in 1974 to preserve and maintain the Bradford House, which was built in 1902. Now it is a living museum, providing a glimpse into the lives of a pioneering family who made their fortune in the citrus industry.
PFS sponsors free chamber concerts and hosts hundreds of children on school and scout tours.
The House is open to the public for docent-led tours from 2-4 p.m. the second Sunday of each month.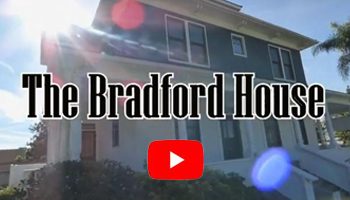 The Bradford House has been a part of Placentia since 1902, when the prosperous rancher Albert Sumner Bradford built it for his family home and the center for his citrus business.
The modified Queen Anne Victorian-style home cost $8,000. With two stories, 15 rooms and a full basement, it is an excellent example of an elegant turn-of-the-century home. The house is furnished in typical 1900-1920 style.
A ruby glass window, coved ceilings, handcrafted hemlock staircase, pocket doors and a double fireplace separating the back parlor and the dining room enhance the first floor. The large kitchen boasts built-in cabinetry, ceiling-high cupboards and a massive worktable with sugar and flour bins.
In addition to the downstairs, four of the original seven upstairs bedrooms are open for viewing.
In 1973, Mr. Bradford's descendants gave the house and surrounding 1½ acres to the City of Placentia for the community's use and enjoyment. The Placentia Founders Society is a non-profit charged with its preservation and use.
Docent-led Tours
Public Tours
2-4 p.m. second Sunday of each month
There is no required fee but a $3
donation is appreciated.
Group Tours
$5 per person
Call (714) 993-2470 to schedule.